Choose how you want to take this course: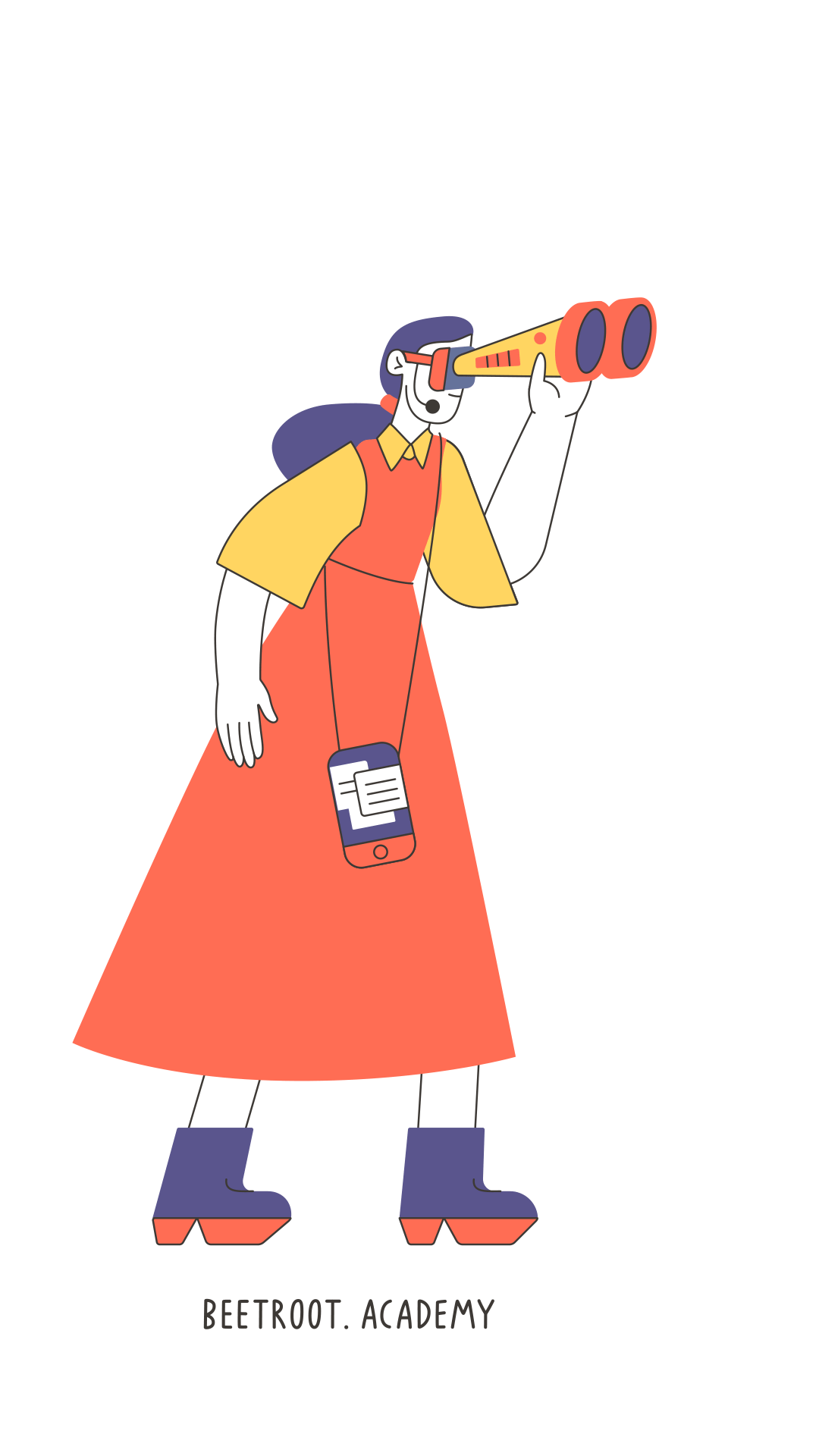 Overview
People are the main assets of any business. Full-Stack HR specialists can work in any of the HR fields. They can attract candidates, convey interviews, and create educational and development systems.
In this course you will embrace the HR profession from start to finish: you'll study the methods of selecting employees, understand the differences between sourcing and recruitment, and learn how to support newcomers to the team and help them grow professionally.
You will be able to build trust-based relations with clients, internal managers, developers, and team-leads. We will provide you with real-life work situation examples.
In the end, you will master the profession and will be able to work for an IT-company of any level.
Required skills
Intermediate English and above;
A general understanding of candidate searching process and/or HR processes in companies.
Why Full-Stack HR in IT?
You will get to know all the profession nuances from start to finish;
You will advance your knowledge of the HR fields you' haven't come across before;
You will be no stranger to all the HR-processes in a company;
You will set sights on future growth – narrow your focus or become a leader of a specific profile;
You will be able to set up HR processes from scratch in a small company
Course program
Main course modules and lessons for this course. You can download full course description to your email.
Profession analysis, terminology, differences between a recruiter, an HR, and an HR-generalist

World and Ukrainian IT markets. Distinctive features and trends

IT companies' scope of activity, types of products. The functional formats: a startup, a product, outsource, outstaff

Roles in IT companies, the stages of development. Full-Stack HR in IT glossary

Methodologies of development. Agile, Waterfall, Extreme Programming. When those are used, and what are the key differences

Corporate culture as a tool for maintaining stability. Coaching in organizations

Employer's brand

Stages of company growth, stages breakdown according to Adizes

Email communications

Time management

Practice. Provisional results


Recruitment

46 h • 18 topics

Work automatization tools for Full-Stack HR (АTS) (Applicant tracking system)

Working with texts. How to captivate the interlocutor from the first paragraph

Sourcing tools. Research basics. Google Boolean Search, X-RAY search

Sourcing tools. Github search, SO, and how to find the candidate's email.

Vacancy proposal. The form that speeds up the recruiting

CV. A selling CV. Assembling a CV for vacancies

Interviewing techniques. General

Interviewing techniques. STAR interview

Interviewing techniques. Metaprogramming interviews

Candidate Journey – building a positive communication experience with you on all stages of hiring

Personnel planning in a company. Recruitment forecasting.

Building a recruitment strategy based on the vacancies and clients

Metrics in recruitment. Analysis and forecast of the recruiter's work

Building referral programs

Building a recruiter's brand

Interviewing techniques. Practice

Practice. Provisional results

Areas of responsibility of the recruiter. Building trust with customers


HR management

20 h • 10 topics

Work automatization tools for Full-Stack HR (HRIS)

Newbie adaptation system depending on the size and format of the company

Coaching

1-on-1 meetings with an employee, establishing a feedback system

Giving feedback. Practice

Performance Reviews. Setting up a system, various approaches to Performance Reviews depending on the company format and clients

Setting goals on the organization level (OKRs, KPIs)

Building a development and education system in teams

Motivation – what to pay attention to

Final project

Get the full course description
Course content
32 h
English
IT world speaks the English language and you can't go far without it. Our teachers will help you master the professional IT language.
Authors
Tetiana Tanina
HR Teacher and Course Author
I've been working in HR for over 10 years now. I am skilled at leading a full recruitment cycle (including direct search and headhunting), as well as building and maintaining open and trust-based relations with clients. I've developed HR programs from scratch, conveyed HR audit, created strategies and worked as a coach. I used to work for NSC "Olympiyskiy" and Prodigi advertising agency, and now I'm a Full-Stack HR at Beetroot. I've known I have a sense of character ever since my school days, which is why I chose the HR field. Communication plays a major role in my work, and I help people grow both professionally and personally. HRs always have room for improvement. I firmly believe that teaching should be based on cases from personal practice. In my free time, I enjoy cooking, reading, and professional planning.
Teachers
Kateryna Skosyr
HR Teacher
Life presented me with an opportunity to work in HR, and 9 years later I'm successfully advancing in this field. I have experience of facilitating, and I always try my best to make my teaching engaging, emotional, and exemplified. I also follow my audience's reaction and make sure to react to it. In my free time I like to read, draw, play board games with friends/colleagues, and watch interesting movies. I am a little bit too determined, it is hard to stop me if I'm set on something.
Yuliia Baidaliuk
Full Stack HR Teacher
I have worked with many product and outsourcing companies, found specialists for startups for eight years in IT. In particular, I worked at Playtika, Indigo Tech Recruiters, OpsWorks.Co, Ubisoft, Vimeo, ThredUp, Talkable. Currently I have the position of Recruitment Lead at the IT-recruiting agency GUID. Among my responsibilities are holding meetings with the team, participating in the closing of new vacancies, negotiations and performance reviews. I keep in touch with clients about the recruiting process. In my profession, I appreciate the dynamism and the possibility of continuous learning. I enjoy communicating with interesting people and participating in useful projects. My desire for experimentation at one time motivated me to hold several lectures and workshops. It is interesting to share experiences with students, give hands-on materials and analyze various cases in detail. I enjoy spending my free time with my family, reading, and studying.
Khrystyna Lypetska
Full Stack HR in IT Teacher
I've been working in the HR field for almost 5 years. I'm currently working as an HR at Ivano-Frankivsk regional department of Eleks. My duties include all the functions of HR specialists, from onboarding to offboarding. I develop adaptation, rotation, and motivation processes, convey performance management, and promotion. I also work on communication in teams. What I like the most about my job is to combine the two factors. One is communication with colleagues (people factor), and the second one is organizing and managing the HR processes of the company (business factor). I have already taught HR before. I prefer informal communication, I practice some workshops, game training, and discussions. I get the most joy out of the fact that I learn as well and meet new people when teaching. I spend my free time with family, and I value traditions. We travel a lot together. I love interior planning and design as well as math and numbers, statistics, economic data, and measures. Also, I work on my English and take private classes.
Yevhenii Mykhailina
Full-Stack HR in IT Teacher
I have been working in IT for over four years. My freelance recruiting was mostly connected with customers from the United States. I worked as a career consultant at SoftServe and Beetroot . I have experience of personal consultations, when I got people acquainted with the IT industry, helped to find their path, explained how to take the first steps in the career. I am currently an HR specialist at the outsourcing/product company 7Devs. I am responsible for a full cycle of recruitment, creation and support of HR-processes. I also deal with business processes at the top management level. I love people and technology. Additionally with my degree in psychology, all this together makes HR management the best combination of these components for me. American psychologist Burrhus Skinner wrote: positive argumentation is the most effective tool in learning. In general, psychology is the strongest tool in the educational process. I support the opinion of the expert. In my free time I play the guitar, write songs, read, play computer games, and model 3D characters. I always try to learn something new. And sometimes I finish up working tasks because I haven't had time during the working day.
-1276₴
if you pay in one installment
Course fee
A small step towards your big career in IT
You will get
44 teacher-led sessions
3 times/week
Life time access to course materials
Graduation event with partner companies
Certificate of completion
Take the test
Register in our LMS and do a test to help us evaluate your knowledge.
Interview
Once we receive your test results, we'll invite you for an online meeting. Let's see if we're a good match.
Enroll
Start your education in the next available group. Your next career destination has never been closer.