Choose how you want to take this course:
offline
Online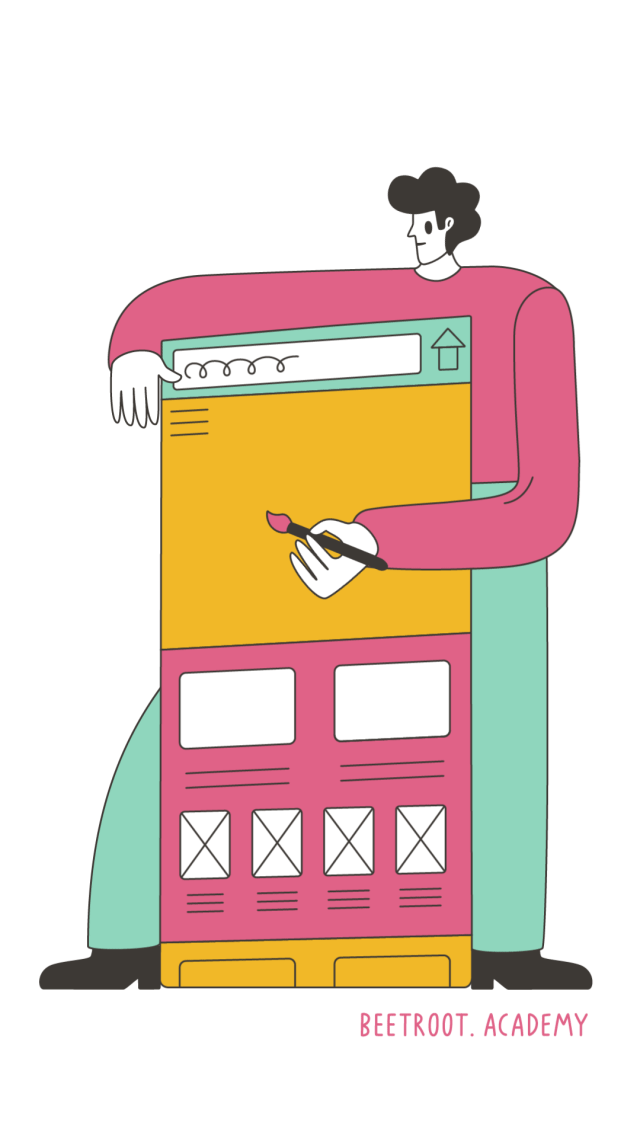 Overview
In this course you will begin to know UI from UX. You will learn the difference between digital design and printed products design. You will learn the ageless principles of composition, typography, and color combinations. As a result you will be able to build adaptive sites for different devices.
We will teach you how to work with Adobe Photoshop and Figma. Also, we will tell you about the main stages of design thinking. As a result, you will make an appealing and usable website and will be able to show your project to the customer.
Required skills
Your laptop
Installed Adobe Photoshop CC (English language version)
Basic computer skills
Why UI/UX?
It's the main creative profession in IT
More than 100 job vacancies appear on djinni.co each month
UI/UX solves business problems – designer create a better user experience for customers
Course program
Main course modules and lessons for this course. You can download full course description to your email.
Introduction lesson

Introduction to the UX. We start with the meaning

Work with brief and audience insights

Design research: Person portrait

Design research: Scenarios

Prototyping

Testing

Introduction to web analytics + A/B testing


Figma. Program installation

Figma. External link access. Project comments. Frame creation

Figma. Working with figures. Object alignment. Fill, stroke, gradient.

Figma. Pen & Pencil


Icons

Figma. Work with text. Work with images and color correction

Figma. Masks. Effects.

Creating module grids in Figma

Typography in web

Color theory

UI components. What does the site consist of?

Visual hierarchy

Design system

Components and Plugins in Figma

Adaptive design

Adaptive design and constraints in Figma.

Types of sites. Landing page features.

Figma Interactive Prototype

Rules for files transfer to developers


Photoshop. Introduction to the interface

Photoshop. Image Retouching

Ретушування зображення: (пластир, латка, Clone Stamp)


Final project counseling

28 h • 1 topic

Deep practice по створенню сторінок сайту


Career counseling for the designer.СV

12 h • 5 topics

CV. LinkedIn. Creating pages + contact search

Portfolio

Working with Mockup

Behance. Registration. Design and creation one project on Behance

Practical tips for the designer career

Get the full course description
Course content
32 h
English
IT world speaks the English language and you can't go far without it. Our teachers will help you master the professional IT language.
Authors
Mariia Yushchuk
UI/UX Design from scratch Author
I teach students to argue for their decisions. I make them to gather good examples and teach them to present their works. The important part in learning is basic knowledge about business goals: how do they influence a design, why do you need to lean on goals when choosing your idea. When I have free time, I listen to rock operas, play poker, pass quests and take photos.
Course fee
A small step towards your big career in IT
You will get
47 teacher-led sessions
3 times/week
Life time access to course materials
Graduation event with partner companies
Certificate of completion
Register for the course
Do you have questions?
Please call us at +380 93 170 2777
Take the test
Register in our LMS and do a test to help us evaluate your knowledge.
Interview
Once we receive your test results, we'll invite you for a cup of coffee to the office. Let's see if we're a good match.
Enroll
Start your education in the next available group. Your next career destination has never been closer.
The course passed easily and free of hassle. The teacher always supported us and answered any questions we had, even those which weren't really planned for the course. Our Regional Coordinator cheered us up and never allowed us to give up. I would definitely recommend Beetroot Academy to my friends and acquaintances.