Choose how you want to take this course: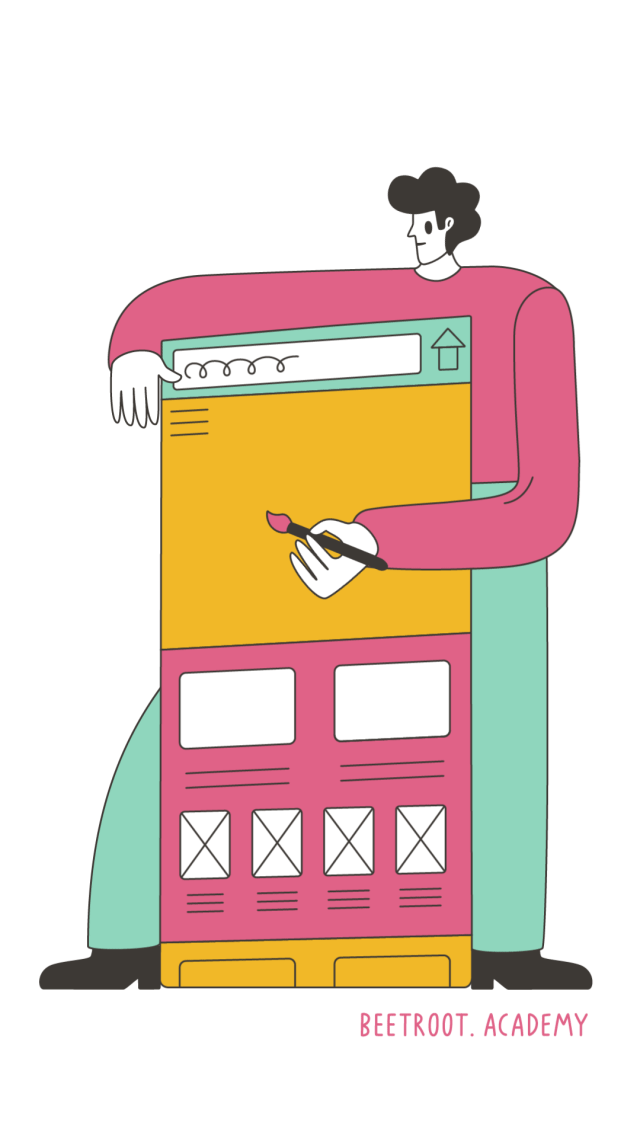 Overview
In this course you will begin to know UI from UX. You will learn the difference between digital design and printed products design. You will learn the ageless principles of composition, typography, and color combinations. As a result you will be able to build adaptive sites for different devices.
We will teach you how to work with Adobe Photoshop and Figma. Also, we will tell you about the main stages of design thinking. As a result, you will make an appealing and usable website and will be able to show your project to the customer.
Required skills
Your laptop
Installed Adobe Photoshop CC (English language version)
Basic computer skills
Why UI/UX?
It's the main creative profession in IT
More than 100 job vacancies appear on djinni.co each month
UI/UX solves business problems – designer create a better user experience for customers
Course program
Main course modules and lessons for this course. You can download full course description to your email.
Introduction lesson

Introduction to the UX. We start with the meaning

Work with brief and audience insights

Design research: Person portrait

Design research: Scenarios

Prototyping

Testing

Introduction to web analytics + A/B testing

UX Module Exam


Figma. Program installation

Figma. External link access. Project comments. Frame creation

Figma. Working with figures. Object alignment. Fill, stroke, gradient.

Figma. Pen & Pencil

Illustration recreating, Exam


Icons

Figma. Work with text. Work with images and color correction

Figma. Masks. Effects.

Creating module grids in Figma

Typography in web

Color theory

UI components. What does the site consist of?

Visual hierarchy

Design system

Components and Plugins in Figma

Adaptive design

Adaptive design and constraints in Figma.

Types of sites. Landing page features.

Figma Interactive Prototype

Rules for files transfer to developers


Photoshop. Introduction to the interface

Photoshop. Image Retouching

Image retouching: (plaster, patch, Clone Stamp)


Final project counseling

28 h • 11 topics

Deep practice по створенню сторінок сайту 1

Deep practice по створенню сторінок сайту 2

Deep practice по створенню сторінок сайту 3

Deep practice по створенню сторінок сайту 4

Deep practice по створенню сторінок сайту 5

Deep practice по створенню сторінок сайту 6

Deep practice по створенню сторінок сайту 8

Deep practice по створенню сторінок сайту 7

Deep practice по створенню сторінок сайту

Deep practice по створенню сторінок сайту 9

Deep practice по створенню сторінок сайту 10


Career counseling for the designer.СV

12 h • 5 topics

CV. LinkedIn. Creating pages + contact search

Portfolio

Working with Mockup

Behance. Registration. Design and creation one project on Behance

Practical tips for the designer career

Get the full course description
Course content
32 h
English
IT world speaks the English language and you can't go far without it. Our teachers will help you master the professional IT language.
Authors
Mariia Yushchuk
UI/UX Design from scratch Author
I teach students to argue for their decisions. I make them to gather good examples and teach them to present their works. The important part in learning is basic knowledge about business goals: how do they influence a design, why do you need to lean on goals when choosing your idea. When I have free time, I listen to rock operas, play poker, pass quests and take photos.
Teachers
Alina Rakhimova
UI/UX Design Teacher
I am a Senior UI/UX Designer with over 7 years of experience. I worked for Eletrolux, Agromat, and Jacob Delafon. Design goes beyond just being work for me. It is a worldview. I enjoy the fact that my profession is innovative, it is always dynamic and moving forward. I always keep up with UI trends and UX processes for web apps and sites.I would like to help novice designers to fully delve into the design process and I would do my best to take them to the next level in four months. My three best students will get my assistance in building a portfolio and writing a CV. Honesty, transparency, and right feedback are key in teaching.
Maksym Voloshynovskyi
UI/UX Design Teacher
I work as a freelancer and develop interfaces for web services, apps, websites, and also do some branding. I enjoy creating new products, bringing positivity, and use through my designs. I learn a lot myself as I teach. In my free time, I read, travel, spend time with friends and family, watch YouTube, and movies.
Vadym Haidai
UI/UX Design Teacher
I have been working as a designer in the teams of the League Design Agency and Che It Group for four years. I have created products in the areas of Financial Technology, E-commerce, SAAS (software as a service), "smart" home, Internet of Things. I have conducted office design workshops and lectures on using UX tools at Beetroot. At my work, I have to monitor people constantly, analyze their behavior and interaction with technology. In this regard, a website or application is an excellent laboratory for research. In my free time I travel to look for beautiful places.
Mykhailo Sidash
UI/UX Design Teacher
I've proven first hand that with enough will it is possible to radically change your profession and start a career in IT. I'm eager to teach my students how to learn, I'll help them master the fundamentals of UI/UX design and prepare them for making the first step into the captivating IT world. I value honest feedback, friendly atmosphere and teamwork in teaching. In my free time I listen to music, do sports, and play board games.
Vladyslav Tulinovsky
UI/UX Design Teacher
I work in Sigma, Vidax and Dexilion. The profession of a designer is a hobby for me. I consider that the person is the best in the work she likes to do. I love the teaching process when I share the information and people are learning and creating their own ideas.
Stanislav Chernyshov
UI/UX Design Teacher
I have been working as a designer since I was 19. My first job was in a polygraph studio. There were tons of papers and ugly flyers. Then I changed jobs in some web-studios, and after that I was working as a freelancer for a company from the US. I worked as a UI/UX designer in an online store chain for 3 years. Then I started working for an IT-company, and I have been working here for 4 years. I chose my direction when I was learning. I have always been interested in designing interfaces, websites, and mobile apps. At first it was all ugly and unattractive. But when you try hard and persevere, it always pays off. I love working on mobile apps. One of my favorite projects is the Alias game, where you need to guess words. I love seeing the result. When the project is done and laid out well. When It works and it's useful for people, and makes money for a client. I want to share knowledge and lead some new and promising students, whose work I will be proud of.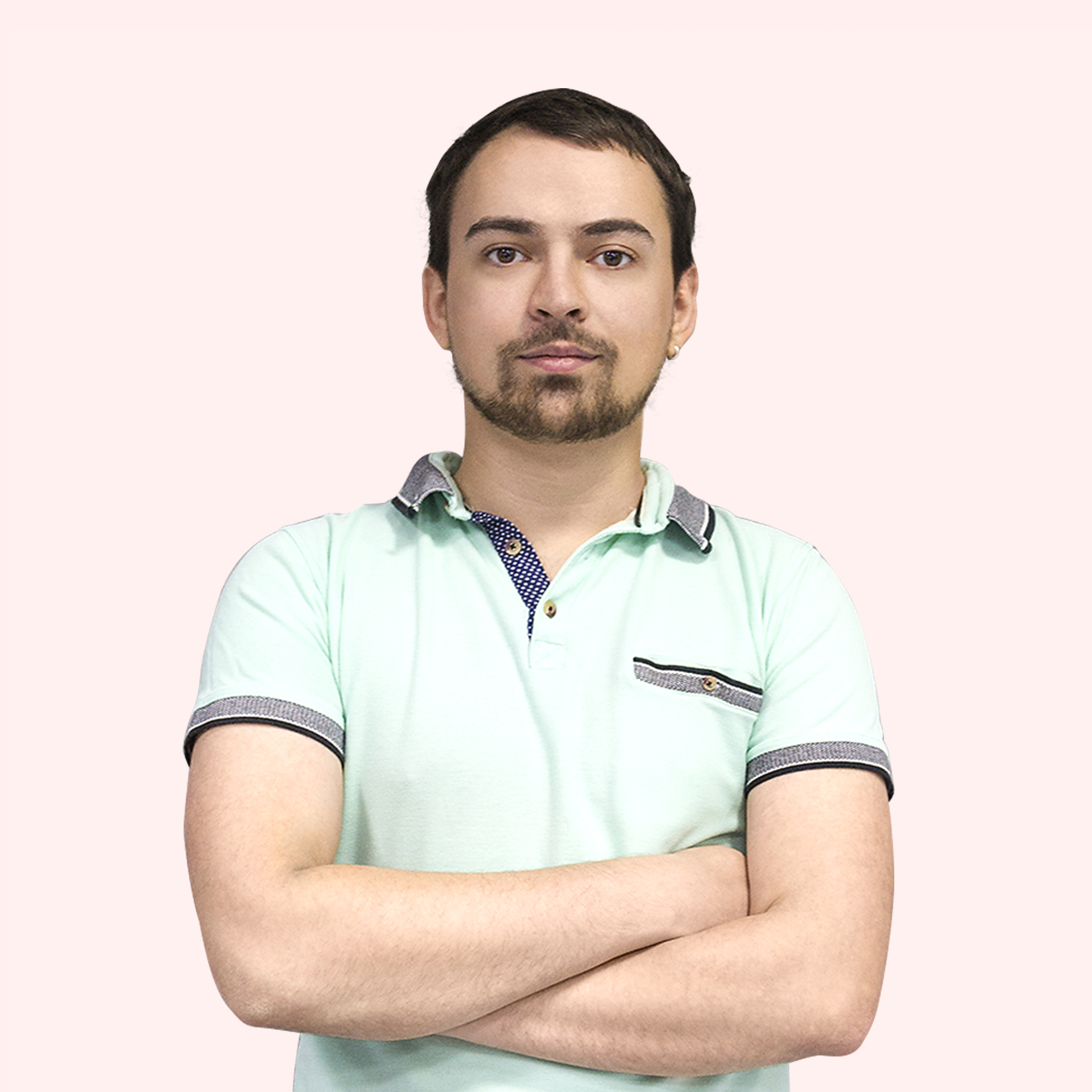 Олександр Майструк
UI/UX Design Teacher
Маю 14 років досвіду у сфері дизайну. Три роки працюю викладачем у Beetroot Academy. Готовий познайомити студентів з Figmа, щоб вони навчилися створювати прототипи, дизайн, інтерфейси та мобільні застосунки. І, звісно, не забуваємо про Photoshop. На моєму курсі можна дізнатися різницю між UI та UX дизайном і прокачати свої навички в кожному з цих напрямів. Я радію, коли бачу гарні роботи своїх студентів і завжди допомагаю тим, хто цього потребує.
Роман Нітягін
UI/UX Design Teacher
Працюю дизайнером вже понад шість років. Починав із веб-дизайну. Тривалий час створював фірмові стилі, гайдлайни і поліграфію для малого та середнього бізнесу. Останні три роки був частиною прекрасної команди технічних фахівців, які розробляли продукт світового рівня у сфері безпеки. Саме у цьому проєкті відкрив для себе багато нового: роботу над UX складовою стартапу з нуля, проведення досліджень, тісну співпрацю з інженерами. Настільки тісну, що навіть налаштовував дизайн-систему в Android Studio. Хороший дизайн у першу чергу допомагає бізнесу досягати поставлених цілей. На заняттях ми приділимо цьому увагу і з головою зануримося у практику. Також дізнаємося про корисну та цікаву історію дизайну та особливості командної роботи. Буде справжній інтенсив і веселощі (з гіфками).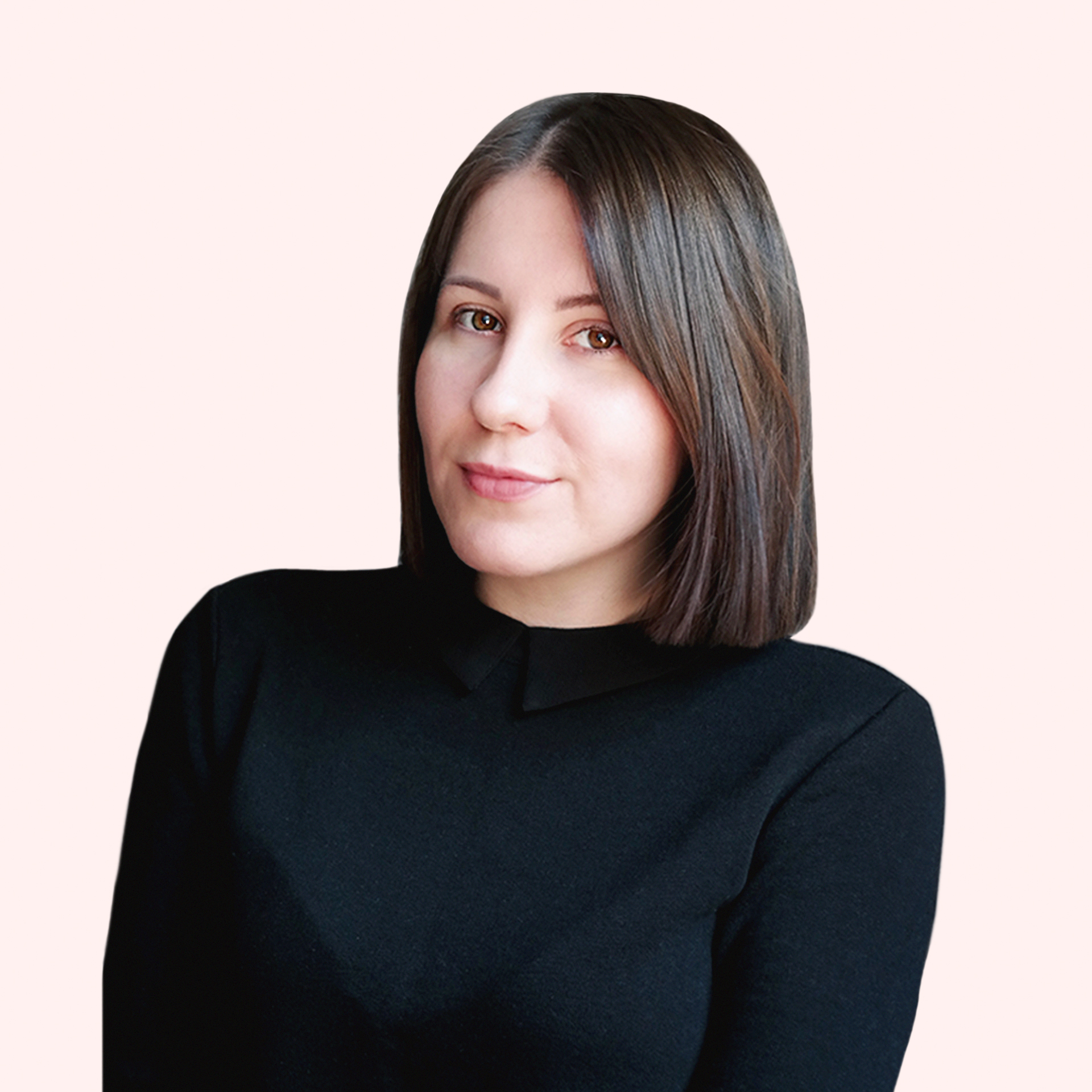 Olha Lashta
UI/UX Design Teacher
I work for Clario Tech as a User Experience Designer. My job is to improve the experience of using our website pages. I discover problems and find creative solutions. My approach to work is user-oriented. I'm continually conducting research and recommending the best practices in user experience. We are always online. A poor UX can lead to business losses and infuriate the user. That's why I decided to become a great designer and to make the user experience easy, clear, and comfortable. I want to help students gain basic knowledge, choose a direction in design, learn to make decisions and back them up, have self-confidence, and develop self-presentation skills. In my free time, I like to walk in nature and around the city. I love traveling, and I'm keen on mobile photography. I spend a lot of time with my dog. I read books and try to improve my professional skills.
Єгор Довгопол
Design Teacher
В ІТ-сферу потрапив у 2013 році. Від стажера доріс до молодшого дизайнера. Працював в Ant Creative Agency, з 2015 року — фрілансер. Переважно співпрацюю з українськими клієнтами. Основний напрям діяльності — комплексна упаковка бізнесу від логотипа і сайта до запуску реклами. Створював айдентику і веб-сайти для промислових компаній (агро-, деревообробні, автозбірні підприємства, легка харчова промисловість). Маю досвід розробки дизайну для кількох застосунків на Native React. Зараз я — арт-директор веб-студії Avangraph Branding Studio. Нас у команді троє. Шукаю клієнтів, займаюся проєктним менеджментом, розробкою юзер-флоу, дизайном інтерфейсів, айдентики, концепцій і налаштуванням таргетованої реклами. Мій перший досвід викладання — приватні уроки дизайну. Пізніше запустив повний онлайн-курс про UI/UX для соцмереж, а згодом долучився до викладачів Beetroot Academy. Віддаю перевагу системному підходу до навчання. Вважаю, що в будь-якій сфері необхідно володіти якомога більшим об'ємом знань. Це дозволяє краще розуміти, як влаштовані процеси та які рішення варто застосовувати у тій чи іншій ситуації. У вільний час працюю над власними проєктами з розробки міської навігації та айдентики. Малюю графіку вугіллям. Обожнюю історичні фільми, серіали, передачі. Полюбляю гуляти старовинними фортецями і палацами. В історичних музеях можу годинами роздивлятись експонати, особливо предмети інтер'єру.
Сергій Красноноженко
UX/UI design Teacher
У мене понад шість років досвіду роботи в UI/UX дизайні. Завжди цікавився багатьма його напрямками. Працюю з веб- та мобільними застосунками. Є знання VR/AR та wearable. Співпрацюю з клієнтами із США, Канади, Ізраїлю та Європи. Працював у таких компаніях як Banda Pixels (ex CREARO), EVNE Developers, MIF Projects, на фрілансі та аутсорсі (ONIX Systems). Зараз займаю позицію Lead Senior UI/UX designer у компанії COAX software. У роботі найбільше ціную цілісність, доцільність та аргументованість рішень. Пропагую knowledge sharing та необхідність завжди вчитись новому. До академії викладав офлайн у місцевому IT-кластері та на буткемпах компанії, у якій нині працюю. Мій підхід — практика, практика і ще раз практика. Без неї теорія не працює. Вільний час проводжу за приставкою, бас-гітарою та digital audio workstation (DAW). Завжди намагаюся знайти час на професійні курси, вебінари, лекції, щоб залишатися «на плаву».
-1536₴
if you pay in one installment
Course fee
A small step towards your big career in IT
You will get
47 teacher-led sessions
3 times/week
Life time access to course materials
Graduation event with partner companies
Certificate of completion
Take the test
Register in our LMS and do a test to help us evaluate your knowledge.
Interview
Once we receive your test results, we'll invite you for a cup of coffee to the office. Let's see if we're a good match.
Enroll
Start your education in the next available group. Your next career destination has never been closer.