Choose how you want to take this course: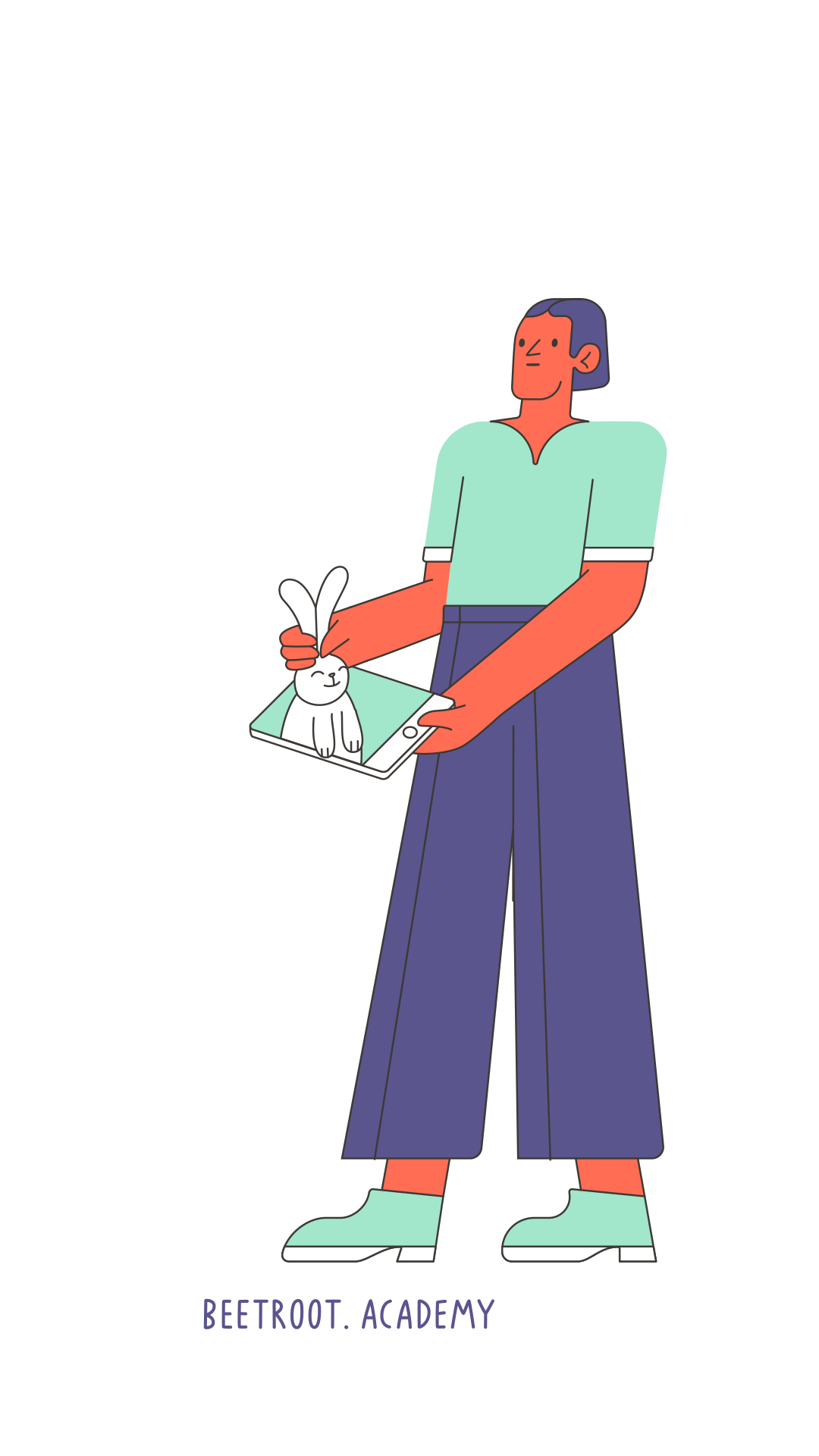 Overview
You don't necessarily need to write code to start an IT career — you can check it instead. The quality of a product and the success of the team lie on the shoulders of the tester. If you enjoy evaluating a product as a whole, you have critical thinking skills, and you'd like to fix errors — we've got a course for you. That is QA Manual.
Even without any technical training, you will acquire the necessary knowledge about the QA profession. In this course, you will learn to find defects, write bug reports, compose test cases, checklists, and master test plans using the test design techniques. You'll be able to conduct mobile testing, will get the hang of network basics, learn to calculate risks, and write autotests. You'll become familiar with an all-purpose QA vocabulary as well as compile a portfolio. In the end, you will have a test interview with us and become ready to search for a new job.
Required skills
Basic computer literacy
Knowledge of testing theory will be a benefit
Why QA Manual?
QA is the second most demanded IT profession with a low entry threshold.
No advanced knowledge is required to start working in QA, basic education is enough.
QA opens doors to any other subfield such as PM, development, or business analysis.
Testers are the first ones to see the new software, get their hands on new apps, and learn the news of the field.
Course program
Main course modules and lessons for this course. You can download full course description to your email.
Fundamental theory of testing and its application.Test control systems and bug tracking systems

22 h • 11 topics

What is testing and why is it important? Core ISTQB Standards

SDLC & STLC. Software development methodologies. Quality of a product

Working with specifications. Analyzing and writing specifications

Test documentation. Test Plan, Checklist, Test Suite, Test Case. Documents that are created upon testing

Levels and types of testing

Testing techniques (White-Box & Black-Box)

The practice of applying the Black-Box test design technique. Part 1

The practice of applying the Black-Box test design technique. Part 2

Working with bug tracking systems such as JIRA

Test control systems (TestRail, TestLink)

Practice of using test design techniques. White Box


Testing web applications, web services, and mobile testing

12 h • 6 topics

Testing user interfaces (GUI). Web applications testing

Web basics (HTML, CSS). Xpath and СSS selectors. Character Encoding

API testing. JSON vs XML. REST vs SOAP

Testing API with SOAP UI

API testing with Postman

Basics of testing mobile apps


Databases. Intro to SQL

6 h • 3 topics

Relational databases. SELECT operator

Comparison predicates, aggregate functions

Join operations, nested requests and JOIN statements


Basics of traffic analysis, load and automated testing. Preparing for an interview.

10 h • 5 topics

Working with Wireshark and Fiddler traffic analyzers

Load testing basics with Apache Jmeter

Basics of Automated Testing (Selenium WebDriver)

Getting ready for an interview

Exam

Get the full course description
Course content
50 h
Practice
During lessons, you'll solve real-life cases with your teacher. You'll work individually or in groups together with your colleagues.
Authors
Pavlo Matchenko
QA Manual Teacher & Author
I have been working in the IT field for more than two years. I started as a tester and made progress to the role of a trainer / mentor for beginners at Ubisoft. I taught the basics of quality control there. I tested financial and banking software at Unity Bars. Today one can choose from a variety of technology gadgets and services. However, it is the quality that makes the product special, sets it apart from similar products, and makes users happy. The tester's task is to check the functions of the product for compliance with the stated characteristics, identify inaccuracies, errors and suggest options for their elimination. I am inspired by the fact that my knowledge and skills in this area can help talented junior specialists become better. In teaching, I strive to create an informal atmosphere, to improve the program with real and clear examples. In my opinion, this way the material is more effectively assimilated and remembered for many years. I dedicate my free time to my family and self-education. I am fond of photography. Deep space photography is especially helpful for reload my brain.
Teachers
Iryna Volnykh
QA Manual Teacher
I have devoted more than six years to the IT field. Previously, I was a tester at ISM eCompany. They work in e-commerce. Now I am an Automation/Manual QA and a part-time Scrum Master at VAIMO. My task is to guard a high-quality IT product. I am engaged in projects based on Magento with different technologies: Web servers: Apache, nginx, PHP, MySQL database, Varnish, HTML5, CSS3, jQuery, Knockout.js, RequireJS. I held numerous workshops for colleagues. I appreciate the practical approach in the studying process. It's also great when students and a teacher work as a team. In my free time I read books, learn to drive and play Witcher-3.
Sophia Novachenko
QA Manual Teacher
I have been working in IT for more than six years, most of my career as a tester and business analyst at Proxet. I am performing the QA Team Lead role of a eight people team at one of the projects. In general, I work as a QA Manager and develop our department. I started my career in a Ukrainian company, and later worked as a freelancer in a German startup. The management system for medical research and workflow related to the processes of medical inventions was one of the most interesting and nevertheless challenging projects. It is built entirely on Microsoft infrastructure (.NET, Azure DevOps, MSSQL). Also I was a member of the development team of an advertising service for broadcasting video directly to the screen of refrigerators. I have experience of working with native applications for mobile devices (messenger and online service for buying air tickets). I like understanding complex business processes and analyzing data in order to test the product as best as possible. I always try to meet the expectations of the end user all the way through. I really value people, who you develop new ideas with, bring them to life and then observe the helpful result for the routine work of thousands of people. Teaching, I want to provide students with a basic tester knowledge using real projects examples. In my free time I go for a walk and do sports — TRX, Pilates, yoga. I love cooking healthy pastry and desserts.
Valeriy Dronov
QA Manual Teacher
I have been working at an American e-commerce project as sales/technical support for over two years. I started my career as a QA engineer at MobiDev. And I have been working here for about two years. I mainly specialize in manual mobile testing, technical requirements and acceptance criteria verification, and risk analysis. I've recently started performing automation API testing. Now I am engaged in a project of a new generation social network with the integration of popular services, implementation of classic and innovative solutions. The development is carried out for iOS and Android. The work of a QA engineer requires maximum attention and understanding of the product you are working with. It presupposes being the intermediary between a client and a development team. Such a specialist is responsible for the quality of a product that is used by thousands or millions of people. This is very motivating and encourages the development of skills. I have no teaching background. Having gained enough experience, I decided to share my vision and attract even more people to this area. In my free time I like going out in the evening with friends, playing board games, or just staying at home to watch a movie, TV series, or play computer games. I do not forget to learn something new in my field. I read profession-oriented books and study programming.
Olena Kozha
QA Manual Teacher
I work as a manual tester at DataArt. I'm doing smoke, (un) functional and regression testing. In general, I have been in IT for two years. I have mastered such technologies as application collecting system and 'smart home'. I've worked in financial, healthcare and tourism projects. The difficulties that occur in the process of product development and testing do not scare me. On the contrary, such work gives self-confidence. I have teaching experience - I conducted individual English lessons. In my free time, I draw and read to find inner balance and to relax. I love playing with my son and the dog. I am a master of sports in shooting. I like traveling to new places or hiding from the whole world in a summer house.
Andryi Schmidt
QA Manual Teacher
have been working in the IT field for five years. I have experience of working with various outsourcing and product companies. I participated in e-commerce projects for customers from Europe and the USA. For the last couple of years I have been working at Pragmatic Play. I check games and manage releases. I have not chosen the QA field occasionally. I am a perfectionist actually. I love planning everything and doing it right. I appreciate teamwork and the opportunity for self-realization at the same time. I have been doing mentoring for a long time, helping newcomers to master the necessary skills and knowledge. I think that the best way to learn information is to give relevant examples. I spend my free time with my loved ones. Also I am fond of crossfit.
-968₴
if you pay in one installment
Course fee
A small step towards your big career in IT
You will get
25 teacher-led sessions
3 times/week
Life time access to course materials
Graduation event with partner companies
Certificate of completion
Take the test
Register in our LMS and do a test to help us evaluate your knowledge.
Interview
Once we receive your test results, we'll invite you for an online meeting. Let's see if we're a good match.
Enroll
Start your education in the next available group. Your next career destination has never been closer.