Choose how you want to take this course:
Online
offline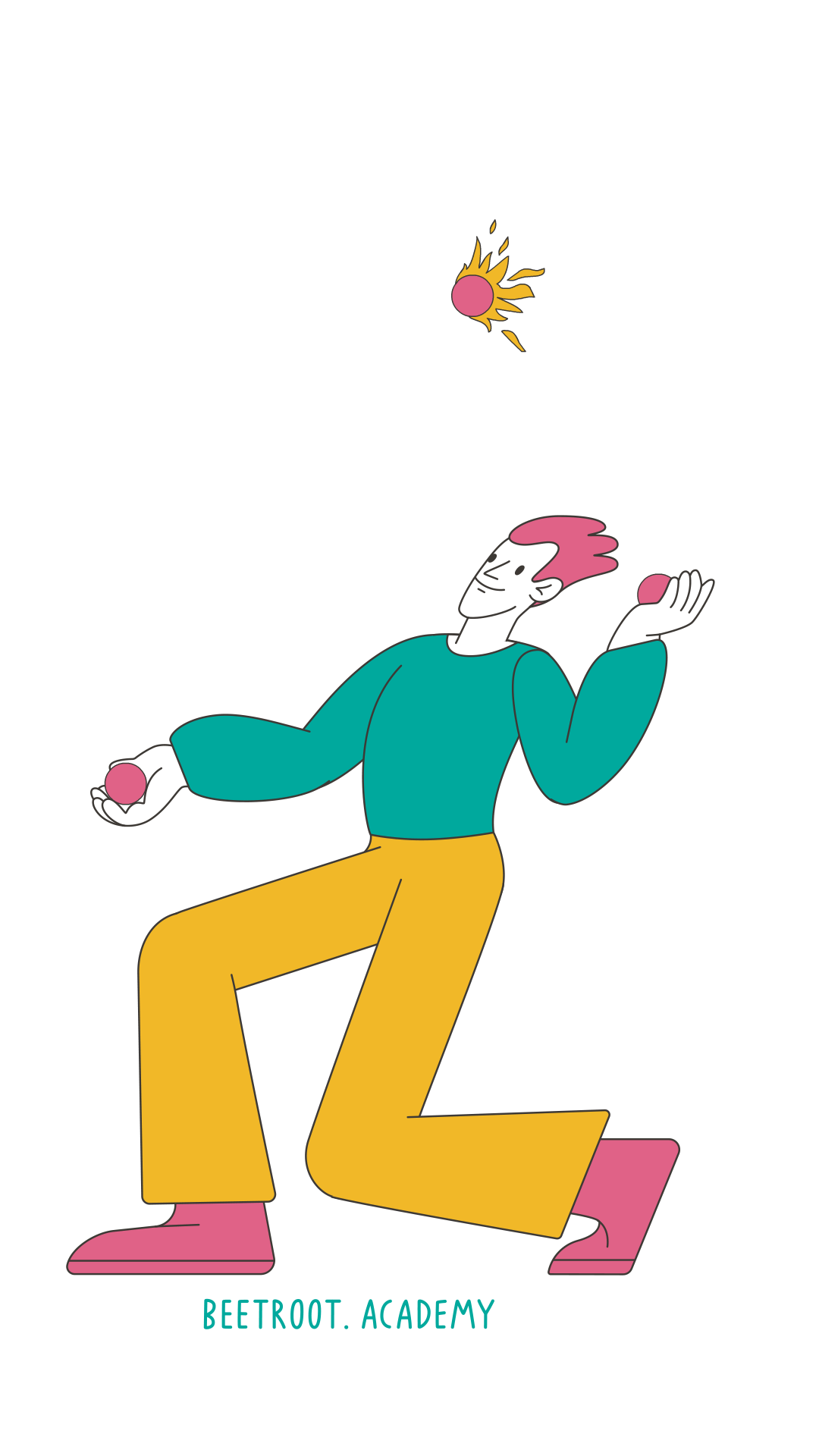 Overview
Do you want to work in IT and to manage a team? We will teach you to lead projects with Agile, to organize work, and to communicate with customers.
You will get a new profession from scratch. You will know what is a project and how different projects can be. You will figure out the goal of the project manager and to learn project planning. Also, you will be able to count spendings and to evaluate risks. We will tell you how Agile and Scrum work – from the values and planning to the tools. The course is with gamification – you will work on projects by yourself and in the team. As a result, you will get all the knowledge to become a certified Scrum Master.
Required skills
Why Project Management in IT?
It's a low entry threshold for the PM
You are the key person on a project and you can affect the result directly
You can work in IT without a technical background
You will establish a software development process and organize a team
With the use of Agile, you will be able to work on any project despite on the technology
Course content
32 h
English lessons
IT world speaks the English language and you can't go far without it. Our teachers will help you master the professional IT language.
Fee
Online
You can pay monthly or for the full course
35 lessons
Balanced program is designed to maximize learning efficiency
2 times a week
2 hours on work days and 4 hours on weekends
Course program
Below are the main modules and lessons.
To get the detailed course description please leave us your email.
General knowledge about project and Waterfall stages
10 h
What is a Project. How to kick-start a project. Project Charter

Methodologies of development. Waterfall, Agile, Extreme Programming

Value proposition. MVP. Pitch

IT companies' scope of activity, types of products

Ukrainian and world IT market: distinctive features and trends

read more
Agile and the core principles of Agile
6 h
Agile Values

Agile Umbrella. Heart of Agile

Agile Project Manager. Responsibilities

read more
Scrum Framework
20 h
Gherkin Syntax

Scrum Artifacts

Scrum Team Roles

Scrum Events. Stand-ups

User Stories

Effective product backlogs. MoSCoW Prioritization Model

Sprint-planning

How to do Remote Retrospective

Scrum.Org PSM I

What is Scrum?

Tracking Progress: Team Burndown and Story Mapping

read more
Soft skills how to work with the team
10 h
How to work with problematic or toxic teams

Commitments and Core Protocols

How to perform 1 on 1

How to give feedback

read more
Soft skills how to work with customers
10 h
How to work with difficult stakeholders?

Email Correspondence

How to work with stakeholders?

What is change management?

Change management Frameworks and how to work with them

read more
DevOps Culture
4 h
Deployment Process, Local, QA, Stage, Production, Environment

Continuous integration and Continuous deployment

read more
Jira, Trello and other PM tools
10 h
Jira

Trello

Gantt chart Lesson

Recruitment tools for PMs

read more
Get the full course description
Teachers
Oleksii Kravchenko
Project Management Teacher
I work as a Head of Delivery of AVI-SPL project at Evolve. In my work, I enjoy the ability to influence the situation directly. My approach to teaching is to define the goal and aim towards it with a minimum of formality.
Oleh Iatskevich
Project Management Teacher
I'm a scrum master on HYS enterprise. Before that, I worked as a project manager at Solar Digital. I think I'm a good leader. Love communicating with people and get feedbacks. I believe that lessons should be interactive, consist of practical examples and be funny. I love good movies.
The course passed easily and free of hassle. The teacher always supported us and answered any questions we had, even those which weren't really planned for the course. Our Regional Coordinator cheered us up and never allowed us to give up. I would definitely recommend Beetroot Academy to my friends and acquaintances.
Take the test
Register in our LMS and do a test to help us evaluate your knowledge.
Interview
Once we receive your test results, we'll invite you for a cup of coffee to the office. Let's see if we're a good match.
Enroll
Start your education in the next available group. Your next career destination has never been closer.