Choose how you want to take this course: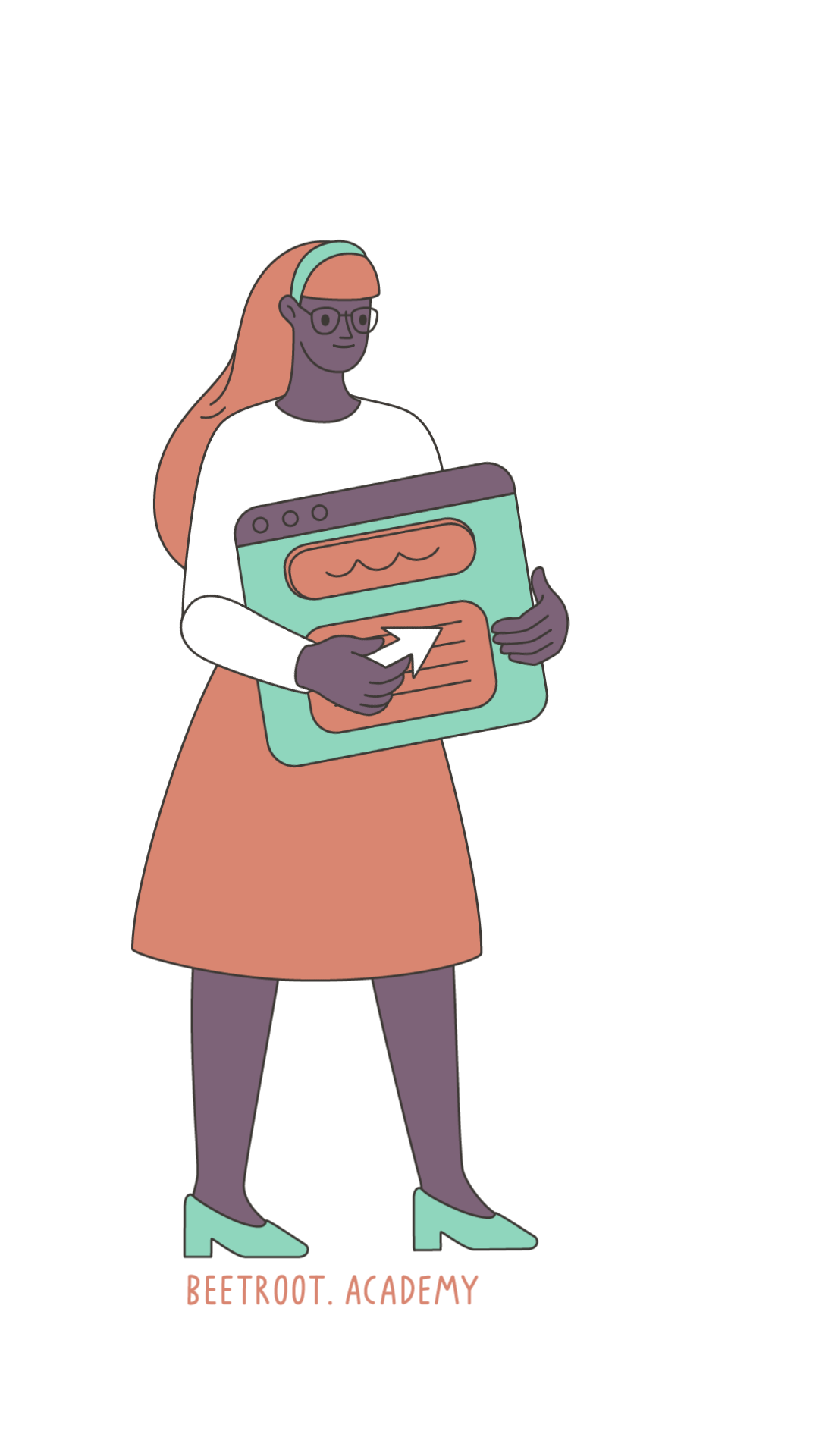 Overview
If you're already dealing with JavaScript, you might have noticed how fast modern-day user interfaces are. That is all thanks to frameworks and libraries. Amongst them is React, a library for creating user interfaces.
Completing our course will make you fully armed with all React nuances, including:
using classes and functions for creating apps
using react hooks for creating custom hooks
managing the state of an application
render props patterns, compound components, HOC
using global context
optimizing apps using caching and correct component placement
using the react-query library (Performant and powerful data synchronization for React)
unit-testing of React components
the future of React — Suspense and Concurrent UI Patterns
creating projects with React and Redux together with your teacher
Required skills
HTML, CSS
SASS preprocessors
JavaScript data types, syntax, constructs, and function basics
Working with the DOM
The event model in JavaScript
Working with AJAX requests in JavaScript
On our YouTube channel you can prepare for a course on these topics for free
Why React?
According to DOU, JavaScript is the most popular programming language nowadays.
Aside from web development, JavaScript can be used as a server language to create desktop apps. The Next.js, GatsBy, and Electron frameworks are meant for that.
Mastering React will make you a skilled JavaScript developer.
React allows you to code like Facebook, Instagram, and Airbnb developers, and be sure the technology won't go out of fashion. By the way, we use React, GraphQL, and GatsBy on our website.
With a React background, you can study React Native on your own and develop apps for gadgets.
Course program
Main course modules and lessons for this course. You can download full course description to your email.
JavaScript

14 h • 6 topics

Variable scopes + Functions as higher order elements

JavaScript closures + Practical using of closures

Regular expressions

ES syntax 6, 7, 8

Object Oriented Programming in JavaScript. Prototypes, using ES syntax

Asynchronous JavaScript


Creating applications with React

50 h • 10 topics

Introduction to React

Using the React library to сreate a user interface

Higher Order Components

React hooks

Films Project. Part 1

Films Project. Part 2

Films Project. Part 3

Project Films. Part 4

Films Project. Part 5. Сode refactoring

Testing basics. Jest framework


Using Redux library in projects. Courses Project.

Redux. Mini-project Books

Redux. Мини проект Books

Get the full course description
Course content
64 h
Practice
During lessons, you'll solve real-life cases with your teacher. You'll work individually or in groups together with your colleagues.
Authors
Roman Nikiforov
Advanced JavaScript / React Author & Teacher, Front-End Teacher
I've been programming for over 19 years now. My main stack is PHP, JavaScript (including React, Vue, Node.js). The IT field is a never-ending quest for new knowledge, technologies, and optimal solutions. I approach my projects systematically, while my teaching methods are primarily creative. I don't allow fooling around during classes, but humor and questions are very welcome. I praise my students for the right solutions, yet making mistakes trains them the best. I firmly believe that practice makes perfect.
Teachers
Yevhen Kozynskyi
Advanced JavaScript/React Teacher
I have an Engineering Technology degree. I started my career as a programmer in 2015. First, I worked as a C # fullstack developer in an outsourcing company. Later, I changed it for a product company, where I still work as a frontend developer. As a backend developer I worked with .net / C #, mssql. Now I use react, angularjs typescript, redux, testing. I have experience in nodejs for writing clients. I try to stick to the concepts of the functional programming paradigm. Why do you like my occupation? It is difficult to explain. This is some kind of inexplicable inner interest. I have always been fascinated by computer science. All my life I have come across programming in one way or another. I have to admit that during my studies at the university I slightly forgot this hobby :) But when I decided to try programming, my eyes lit up again, and I set myself the goal to study at all costs. I have teaching experience, training one, if to be precise. I worked as an instructor in the sports club. During the day I was a programmer, and in the evening, like Batman, I turned into a coach :) Programming remains both a job and a hobby for me. I also like playing computer games, working out in the gym to keep balance with my intellectual and physical strength.
-1548₴
if you pay in one installment
Course fee
A small step towards your big career in IT
You will get
24 teacher-led sessions
3 times/week
Life time access to course materials
Graduation event with partner companies
Certificate of completion
Take the test
Register in our LMS and do a test to help us evaluate your knowledge.
Interview
Once we receive your test results, we'll invite you for an online meeting. Let's see if we're a good match.
Enroll
Start your education in the next available group. Your next career destination has never been closer.