Choose how you want to take this course: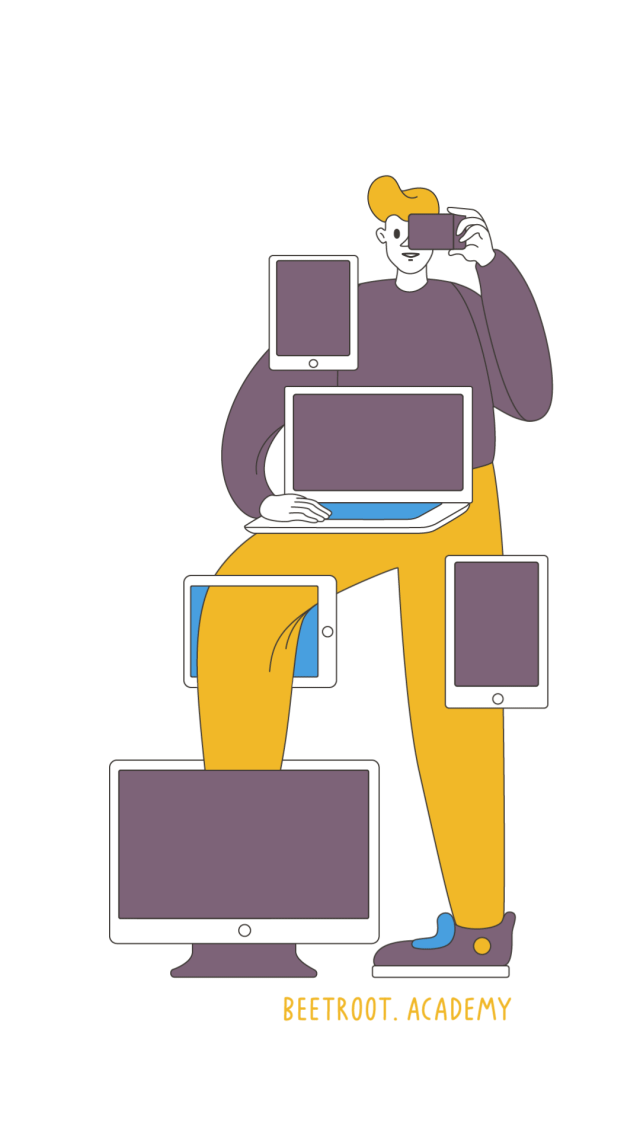 Overview
We teach you how to make sites. We will explain how a browser works, how to put into practice HTML, CSS, JavaScript (ES6). Our teachers will explain how to repeat framework steps. They will tell how the Gulp/webpack works (it's a tool for collecting applications). You will learn tools for accelerating development. And you will use the newest rules which will soon become standards.
You will work on projects by yourself and in teams. As a result, you will create some sites and an application. Also you will be able to make up sites adapted for mobile devices. After the course ends you will have a portfolio which will help you to start a career as a developer.
Required skills
Advanced PC user
Basic understanding of algorithms
Coding experience is an advantage
Why Front-End?
After coding you see the result immediately
Your portfolio is visualized for the client
When you know Front-End you can switch to any other development field
You will learn how to create websites and interfaces using HTML and CSS
You will learn one of the most in-demand languages on the market — JavaScript
Course program
Main course modules and lessons for this course. You can download full course description to your email.
What is a website. Work process setup. Introduction to HTML.

HTML5 tags

Git

Introduction to CSS

Photoshop for a Front-End developer

CSS selectors

Block document model (CSS Box Model)

Flexbox

Fonts in web, Font Face

CSS positioning and transformation

BEM methodology

Form building

Scalable Vector Graphics (SVG)

Work with pre- and post-processors

Adaptive layout (Responsive web design)

Adaptive navigation

Adaptive graphics

Cross-browser compatibility

SEO for developer


JavaScript

40 h • 13 topics

Types of data and operators

Loops

Functions

Objects

Arrays

Classes

Document Object Model (DOM)

Events

Introduction to jQuery

Slick Slider – the most universal slider plug-in

AJAX

Customized maps with an example of Google Maps API

Web Storage


CSS animation

CSS Grid Layout

Tool for project construction (task runner) Gulp

Webpack

Introduction to Vue.js

Modifiers, events, and rendering in Vue.js

Vue.js components

Working with remote server

Website optimization

Get the full course description
Course content
32 h
English
IT world speaks the English language and you can't go far without it. Our teachers will help you master the professional IT language.
Authors
Oleksandr Vasilyev
Front End Teacher & Author
I used to work for CamoIT, Geeksforless, and as a freelancer. Now I work at OCW and teach at Beetroot Academy. I am also the co-founder of Bmple IT-startup and pop core'n clothing brand. I chose Front-End development 10 years ago. All the positions were called "HTML-coder" back then. You could practically become an IT specialist after a 2-month html & css course without much effort. I've enjoyed building and constructing things since I was a kid. Now my job is related to designing complex user interfaces, so pretty much nothing has changed. I am in love with both the process and the results. There's always time for jokes and humor in my lessons. I give real-life examples and share technologies and languages used in Front-End. In my free time I travel, meet my friends, play computer games, and do puzzles. But more than anything I love learning something new.
Teachers
Dmytro Prokopiuk
Front-End Teacher
I work for Softserve as a WebUi Software Engineer. My duties include developing and maintaining interfaces and business logic. I enjoy the constant need to learn something new since the technologies are always progressing. I chose Front-End because I love to see what I create. I like working with data and complex business logic, which I can combine in the modern Front-End. I am willing to teach since the knowledge needs to be shared. That is the only way to multiply it. In my free time, I go salsa dancing.
Ivan Vasylenko
Front-End Teacher
I work for Navicom and create websites. When I have time, I do some freelance work. We are living in the times of digital advancement and technological ubiquity. That's why I chose IT. I like creating something new and interesting for people, that pleases the eye and provides benefits. I have some teaching experience. I taught traffic rules at a driving school. I strongly believe that people have to share knowledge and increase the knowledge level of humanity in general. I love outdoor activities. In winter I prefer skiing, in summer — biking. I love walking in the parks of our city with my family. I always have an urge to move after sitting in front of a computer.
Vitalii Hamolia
Front-End Teacher
I worked as a freelance for six out of eight years in the IT field. Now I have the position of SFCC Front-end developer at Valtech, before that I worked at Speroteck. Being a freelancer, I worked with clients from England, the USA, Israel, the Netherlands, Moldova, Belarus, and Russia. I have created over a hundred freelance projects on CMS OpenCart (online stores and product catalogs) and Wordpress (corporate sites). I used a standard stack of technologies: HTML, CSS, SASS, Bootstrap, JS, JQuery. Programming is an opportunity for me to solve interesting technical problems on a daily basis and enjoy it. I became interested in this direction at school in computer science lessons. Then I realized that I wanted to do programming professionally. I dreamt of studying to be an engineer. But I failed to get state-financed education, so I chose Management as my major. In my free time I studied programming. I have no teaching experience, only conducted several training sessions during the fifth year of the university. I devote my free time to reading and traveling. I love trips by car in Ukraine and flights abroad.
Marka Shevchenko
Front-End Teacher
I am a Front-End developer at Beetroot on the WiseStamp project. I create interfaces and new functions for this service. One of the advantages of Front-End is that you see the result of your work simultaneously with a user. Without peculiar design knowledge and artistic talent, you can create a beautiful interface using only code. Technology is so fast-developing that my job will never be boring. There are always new ways to advance and improve skills. Teaching is one more opportunity to grow professionally. From my own experience, I will show how the humanities-minded person can conquer the technical field and not get confused in this area. Reading and movies are my favorite leisure activities.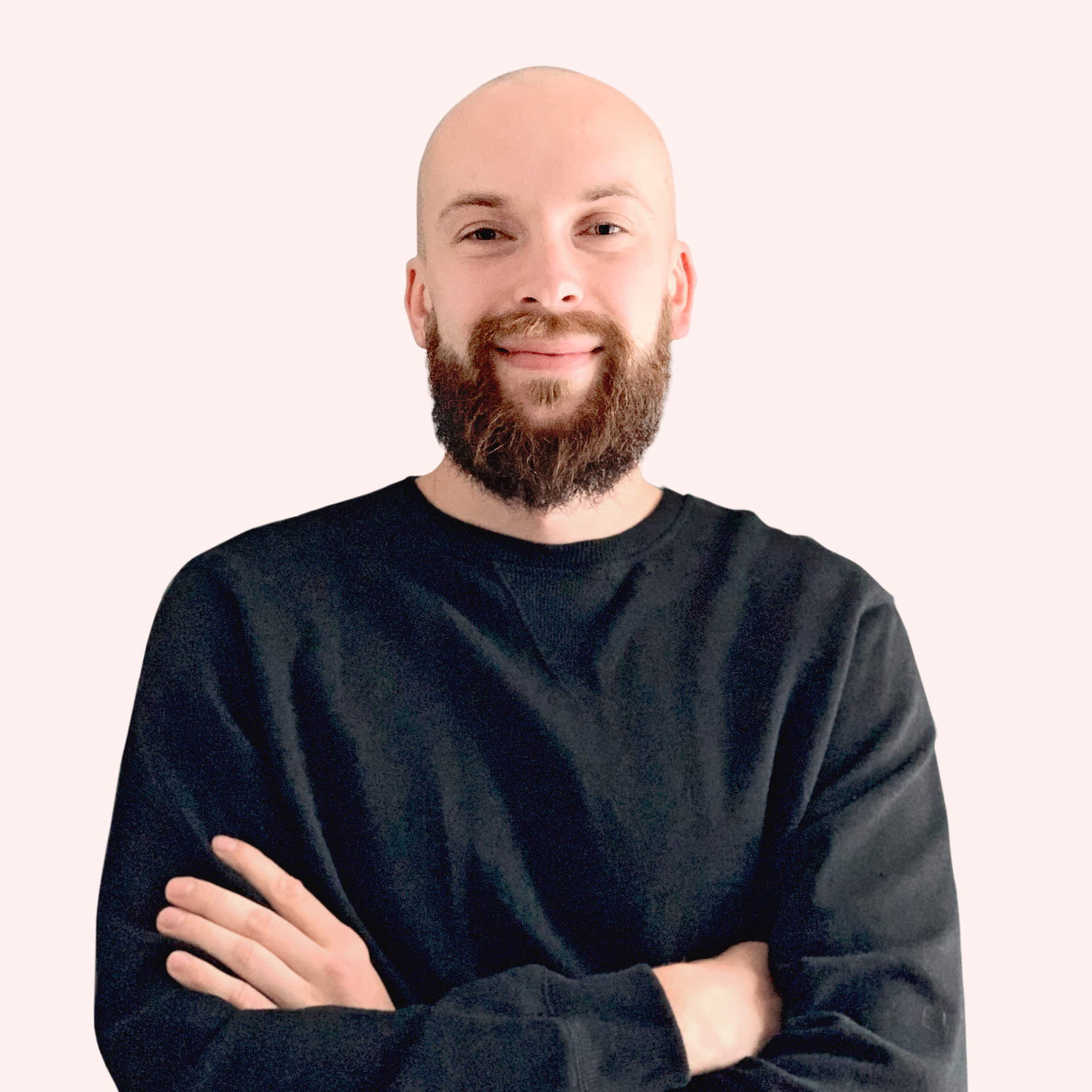 Volodymyr Mazurets
Front-end teacher
I used to work for Whiteport, a Swedish company, and also had freelance orders from Canada, Kazakhstan, Russia, and Sweden. I created a mobile app for a US client with React Native. For the most part, the projects were done with Vue.js and a few with React. I've also dealt with Angular. Now I work for Merge Development, and I'm writing SPA with Vue.js & React. And I teach a Front-End course at Beetroot Academy. There are no limits to growth and improvement in my work. The primary aim in Front-End is to find the solution on your own. As a teacher, I have to direct and correct. If you don't get it by yourself, you won't memorize the solution and no knowledge imprints in your memory. I emphasize checking home assignments and adding loads of corrections until everything is perfect. In the process, I notice each student's weaknesses, and I make sure to take them into account. In my free time, I play football and hockey, enjoy cycling, and walk my dog.
Tetiana Naumenko
Front-End Teacher
I've been freelancing for over four years now. I create turn-key ready business card websites, landing pages, and small online stores. I also have an outsource based collaboration with Garin Studio. I love creating perfect interfaces and solving logical tasks. I felt an urge to share the knowledge as I acquired sufficient experience. I enjoy multisport, so in my free time, I run, cycle, do some rock climbing, and canoeing. My mottoes are 'nothing is impossible' and 'life is a movement.' So never stop on the way to your future in IT, you can do it.
Oleksandr Ordynskyi
Front-End & Advanced Javascript Teacher
I'm a FullStack JS developer (HTML, CSS, Angular, React, NodeJS, ExpressJS, MongoDB, PSQL) with 5 years of experience. I took part in local projects: EuroTaxi, VIK and foreign projects: LoomLogic, Soa Leads, Urnora, WARM. Now I'm in the music industry with a Danish startup. Front-End is in demand and it's interesting. You see the visual results of your work immediately. Among all the frameworks I can distinguish Angular and React with its ecosystem. React helps developers to create big web-applications for measuring data and not reloading the page. The main goal of the React is to work quickly, to be scalable and easy. And this framework works with these tasks perfectly. My main secret in teaching is friendly relationships with my students. Teaching has to build on the model: "Equal to equal". I spend my free time with my family. I love playing hockey and football.
Олексій Усанін
Front-End Teacher
В IT-сфері працюю більше трьох років. За цей час побув і фрілансером, і штатним співробітником. На фрілансі клієнти були з США, Європи та країн СНД. Працював у компанії Codica, а зараз — у Mobidev. У моєму портфоліо — проєкти у сфері нерухомості, фінансів, туризму. Використовую різні технології: HTML, CSS, JS, SASS, Less, Flexbox, React, Redux, jQuery, Webpack, Gulp, Ajax, Git / GitLab, Bootstrap, MaterialUI. Обрав Frontend розробку, тому що полюбляю створювати інтерактивні та динамічні веб-застосунки. Мені подобаються цікаві і складні завдання. Вони дозволяють постійно вивчати нове. У мене є досвід менторства. У викладанні віддаю перевагу дружньому підходу і в той же час намагаюся вимогливо ставитися до виконання завдань. Новачкам в IT кажу так: із будь-яким складним завданням потрібно спробувати розібратися самостійно і лише потім звертатися за допомогою. У вільний час ходжу до спортзалу, у басейн, кіно.
-1536₴
if you pay in one installment
Course fee
A small step towards your big career in IT
You will get
47 teacher-led sessions
3 times/week
Life time access to course materials
Graduation event with partner companies
Certificate of completion
Take the test
Register in our LMS and do a test to help us evaluate your knowledge.
Interview
Once we receive your test results, we'll invite you for a cup of coffee to the office. Let's see if we're a good match.
Enroll
Start your education in the next available group. Your next career destination has never been closer.