Choose how you want to take this course: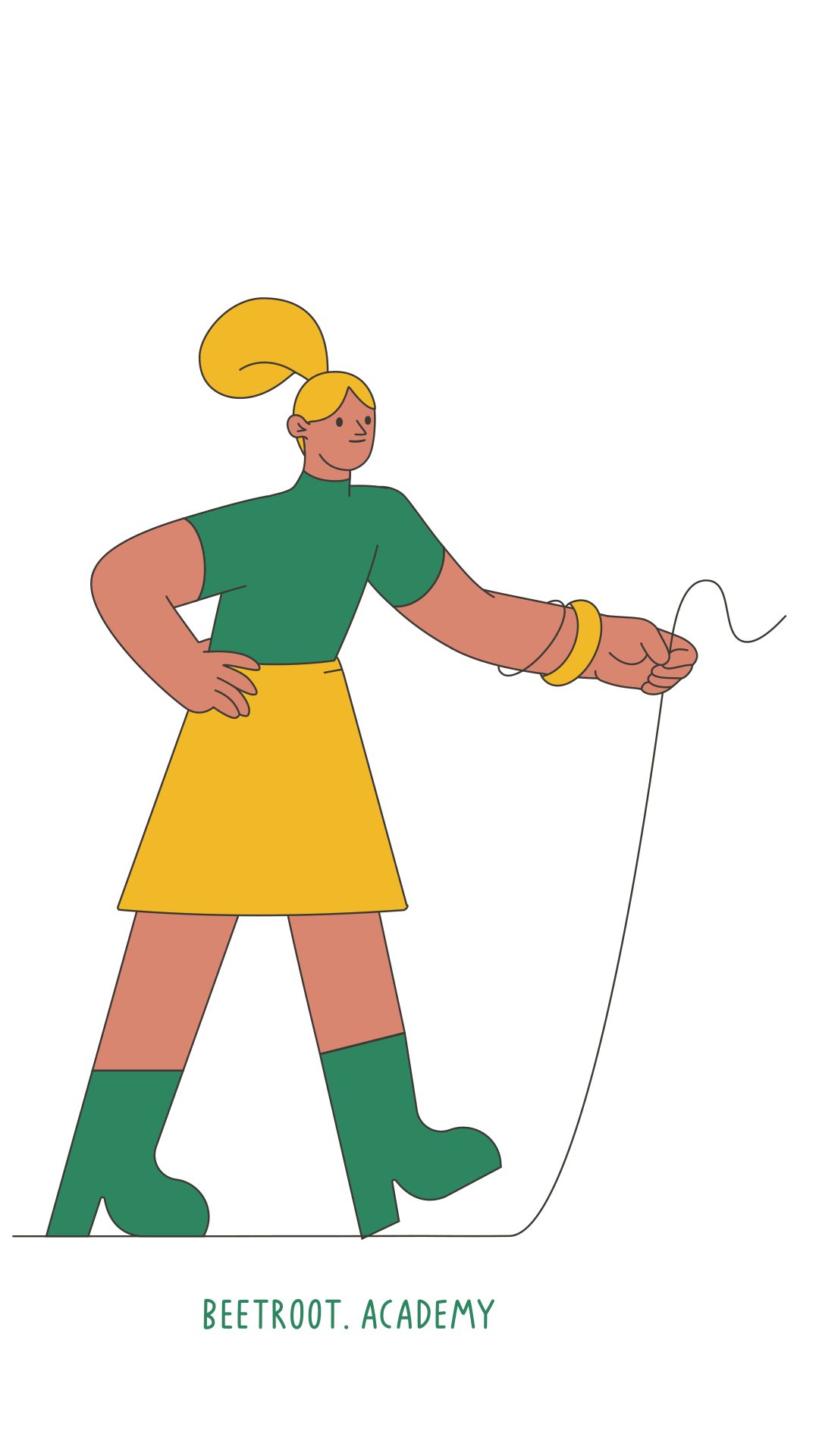 Overview
In our course, you're going to study setting up a business in a digital economy. We have based the course program on the experience of Chalmers University of Technology, Drivhuset Scandinavian organization, and Aalto University in Finland. The Chalmers university methodology fueled the foundation of Beetroot and Beetroot Academy. Our methodology functions in Scandinavia and is being taught in Ukraine for the very first time. After the course completion, you'll acquire the tools for setting up a business and the experience of launching a startup. You're going to work under a teacher's guidance, both on your own and in a team. You'll be able to start a business without external resources and additional funding. Thanks to our Swedish partners, the students will also get the LOOPA book about business setup and development.
Required skills
1+ years of business experience as an entrepreneur or an employee in the following fields: marketing, sales, PR, accounting, or any other administrative position.
OR:
1+ years of experience in IT occupying a technical position, or technical knowledge and skills gained by completing relevant courses.
What will you get after the course?
A step by step methodology for setting up any business
An elaborate business model of your venture
An understanding of marketing, financial, and other aspects of running a business
A book on Swedish business development methodology
Bonus lessons
Course program
Below are the main modules and lessons.
To get the detailed course description please leave us your email.
An Idea
8 h
Introduction

How to come up with an idea?

Target audience

Fieldwork no.1

read more
Making a Decision
8 h
What is a Value Proposition?

Client benefits and client roadmap

Fieldwork no.2

Fieldwork no.3

read more
The Market
4 h
Competitors

Partners and monetization

read more
Clients and Finances
4 h
Clients and sales

Financial modeling

read more
Preparing to Launch
4 h
Business Model Canvas: what have we achieved?

How to continue on your own?

read more
Get the full course description
Authors
Yurii Kozik
Entrepreneurship Author
I am a startup consultant, an expert and member of the competition committee of the Ukrainian Startup Fund. I have more than 5 years of experience working with startups. Entrepreneurship is about being creative and building something from scratch. You don't know whether something will work and what the result will be. Entrepreneurship is always a path in the dark with a lantern in your hand. The lantern is your experience and skills. It may shine brighter or dimmer, but it will never dispel all darkness. It is uncertainty and incertitude that create opportunities for creativity.
Teachers
Kateryna Fainovska
Entrepreneurship Teacher
I am the founder and CEO of the international online service mofy.life. I have been in entrepreneurship for ten years. This is not my first business, created from scratch and without any investment. Almost all my activities have always been associated with IT. I am a teacher of Modern Greek, English language ​​and literature, but have never worked in this area. After university, I got into a large American company called Royal Caribbean. I worked as an advertising manager at all-Ukrainian network CitySites. They said about me: "A girl from the Internet came. We need to give her money. " Today, my company mofy.life is an international online service for creating and ordering photo books / magnets / paintings. It can be dangerous to store special moments of every person's life in gadgets, as they can get broken. Therefore, we have created a simple and convenient online-constructor. I also advise small businesses, because I understand how important a fresh perspective is. I analyze the successes and mistakes of aspiring entrepreneurs and suggest how to improve the process. Running your own business is both freedom and 100500 challenges. Entrepreneurship is about courage, ups and downs, the ability to analyze and admit your mistakes, and enjoying your work, of course. I am happy to share my experience with young entrepreneurs on a course at Beetroot Academy.
Serhiy Fitzak
Entrepreneurship Teacher
I have 20 years of experience in IT, more than 15 years as a managing partner at Softjourn. I am in charge of operational activities and everything related to this. Most of our clients are from North America and Europe. I used to teach courses and seminars about business. As for me, the main thing in teaching is close interaction with the audience. The work needs to be set up so that the theoretical material is projected on practical experience from real life of different businesses. I devote my free time to my family as much as possible. I love sports. I run about seven to eight hours a week. I also enjoy reading and listening to audiobooks, podcasts with lectures and seminars.
Oleksandr Soliavkun
Python & Back-End Teacher
-968₴
if you pay in one installment
Course fee
A small step towards your big career in IT
You will get
16 teacher-led sessions
2 times/week
Life time access to course materials
Graduation event with partner companies
Certificate of completion
Run Business Development for Entrepreneurs
LOOPA is based on the methodology developed by Drivhuset in collaboration with Chalmers School of Entrepreneurship. This system works in Swedish colleges and helps entrepreneurs set up and run businesses, or look for alternative ways of implementing ideas. Thanks to the support, education, and creative environment, Drivhuset achieves remarkable results — over 1000 companies emerge in Sweden every year.
Gamified methodology: learn to set up a business
Unlike in other games, you won't be competing with your friends. Instead, you're going to team up and develop an idea into a valuable and useful product for clients. You'll go through all the stages of bringing a plan into action, and you'll face the real challenges. That allows you to test the feasibility of your decisions. Your team will understand which skills need improvement and what you lack to get the product close to perfection.
Students who complete the course successfully will get access to bonus hidden lessons on the following topics:
Setting up sales
Building a team and hiring employees
Each topic has a video lesson from an expert as well as a webinar with consulting possibilites
Learning methodology
Course presentation and author interview with our partner
FAQ
What does the practical side of the course imply?

The course includes some fieldwork, meaning some practical tasks that the students would have to perform aside from classes. Those tasks will be aimed at developing personal businesses and achieving real progress.

Who is the target audience for this course?

The course is primarily for budding entrepreneurs who don't have any functioning and profitable business.

Does one need to have an idea or an already running business?

You don't need an idea to enroll. If you do have one, you could work on implementing it during the course. If not, we'll help you come up with something. If you're already running a business, the course will make sense to you if you'd like to go back to entrepreneurship basics, make an unbiased evaluation of your business, and improve it.

How do you select your students?

We base our choice around motivation and competence. Our goal is to help the students launch their very own businesses, so we pick people who already have experience in some industry. We believe that it could be valuable for getting started as an entrepreneur.

I'd like to create the new Facebook, can you help me?

Our course is more for lifestyle business than for venture startups. But the knowledge and skills would be relevant for startup founders regardless.

What results will I achieve by the end of the course?

You're going to work through a personal business project and shape an idea of developing it further. You'll also gain some practical skills to be used for any other businesses and projects.
Enrollment process
Take the test
Register in our LMS and do a short test to help us evaluate your knowledge.
Interview
Once we receive your test results, we'll invite you for a cup of coffee to the office. Let's see if we're a good match.
Enroll
Start your education in the next available group. Your next career destination has never been closer.