Choose how you want to take this course:
Overview
How do you create a large-scale website without using any ready platform? How do online shops and social networks work? We know answers to these questions and will tell you in our Back-End Development course.
We'll show you all the processes inside a site: requests, data processing, user checking. You'll learn how to code in PHP, use servers such as apache/nginx, and MySQL database server (DBMS). On this course you'll learn how to solve difficult tasks. You will be able to sort data arrays without using ready algorithms and to make your own game.
Required skills
Base knowledge of site layout
Base knowledge of how a site works
Why Back-End?
Start with Back-End and you will figure out how servers and Internet work
You will be able to develop complex server solutions
You will understand how games, mobile applications and complex sites work
After finishing the course you will figure out the basics of programming, so you can learn any other programming language on your own
Course program
Main course modules and lessons for this course. You can download full course description to your email.
Environment Setting

12 h • 3 topics

Vagrant-Machine Setting on the Base of Ubuntu/Xenial64

Apache2/PHP/MySQL Setting and Installing

Preparing IDE for Work with a PHP


PHP Developing Introduction

24 h • 7 topics

Working with Variables

Type of Arrays in PHP

Work with Arrays (Operations, Sorting, Counting, Moving)

Conditions Based Decision Making

Repeating Actions with Iterations

Work with Files

Manipulation of Rows in PHP


Functional Programming

9 h • 3 topics

Reuse Code in PHР

Creating your own Functions in PHP

Superglobals in PHP, Working with a Session


Work with MySQL Databases

23 h • 6 topics

Database Design

Creating MySQL Databases

Utilities for Working with Databases (phpmyadmin)

Databases Users and Permissions

Creating Database Requests

Working with MySQL from PHP


Object Oriented Programming

20 h • 5 topics

OOP Concepts

Creating classes, Attributes and Operations in PHP

Namespaces. Autoload Classes

Realization of Inheritance in PHP

Composer


Frameworks (Laravel)

28 h • 6 topics

Introduction to Laravel. Framework Installing

Laravel project structure. The Basic Usage of an Artisan

Basic Routing

Migrations. Eloquent

First app (blog) Using Laravel

Middleware

Get the full course description
Course content
32 h
English lessons
IT world speaks the English language and you can't go far without it. Our teachers will help you master the professional IT language.
Authors
Serhii Geraschenko
Back-End Teacher & Author
I'm a team lead with LampDev. I've been a web-developer since 2010, and have worked with clients from dozens of countries. Within my company, I've taught more than 15 beginning developers. Some of them founded their small companies later. I love constantly developing – it's not boring. When I started work, it was interesting to get outside of Back-End. And now, when teaching, I love to explain difficult things by way of simple examples. In my free time, I do sports.
Teachers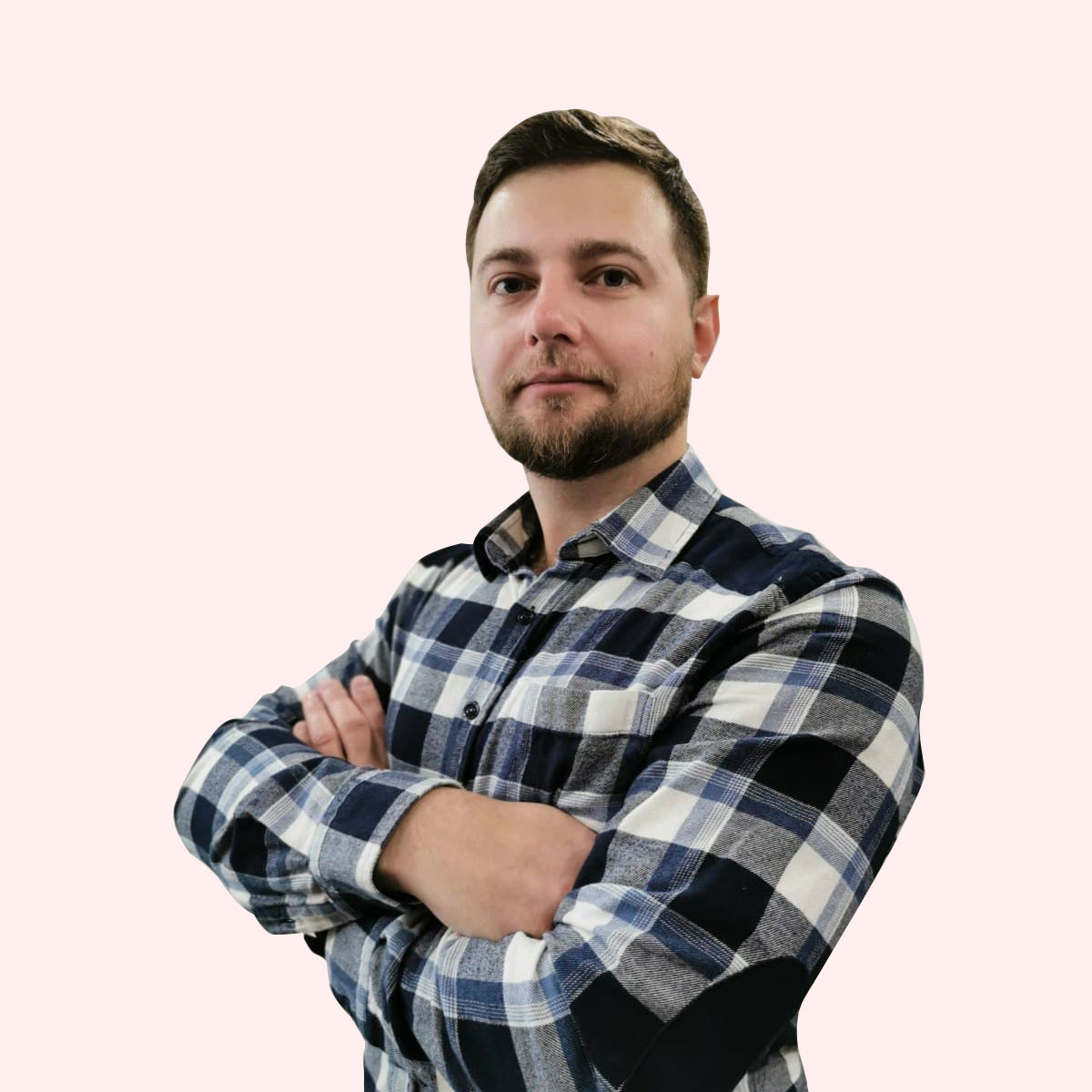 Roman Bondarenko
Back-End Teacher
I have been working in IT for ten years. Programming as a school hobby gradually grew into occupation. I like searching non-standard solutions, writing "beautiful" and functional code that solves the assigned tasks. Previously, I worked in the Eco & Tech team, now I am engaged in back-end and front-end website development at Boosters. I've been freelancing for four years. I work with clients from Ukraine, Russia, Estonia. There were different projects during this time: from creating advertisement websites and online auto parts stores to creating platforms for healthy nutrition, food delivery, automated text analysis and document processing. I use the most popular technologies: PHP frameworks: Laravel, Symfony, CodeEgniter; Database: MySql, MsSql, PostgreSql, Redis; JavaScript: React, jQuery. And also sphinx, elasticSearch, Git, docker, vagrant, bootstrap, twig, blade. I have never taught before, apart from lecturing for colleagues . I want to teach students in an accessible and high quality way so that they can easily apply knowledge in practice. I spend my free time with my family and friends, I read the IT world news and many more.
Mykhailo Kardakov
Back-End Teacher
I work as a Senior Software Developer for Ecentria Solutions in Odesa. I'm working on a big retail project from the USA. My tasks are connected with the import of goods on websites and integrations with suppliers. My work is 100% intellectual, and I have to think hard all the time. I like endless opportunities for self-growth and development. Reaching a certain concrete level makes you discover how everything on the internet works. You see how businesses sell and witness plenty of efforts being spent on making ordering online easy and fast for you. The bonus is that a lot of respectable IT companies allow you to work remotely and with no fixed working hours. First of all, I want to create a friendly atmosphere in a group. I want everybody to ask questions fearlessly. Coding has to be interesting and funny. My task is to lead the students in the right direction. In my free time I like playing guitar and ping-pong.
Course fee
A small step towards your big career in IT
You will get
44 teacher-led sessions
3 times/week
Life time access to course materials
Graduation event with partner companies
Certificate of completion
Take the test
Register in our LMS and do a test to help us evaluate your knowledge.
Interview
Once we receive your test results, we'll invite you for a cup of coffee to the office. Let's see if we're a good match.
Enroll
Start your education in the next available group. Your next career destination has never been closer.